The Briarwood HOA website was developed to further enhance the HOA Board of Directors' and its Committees' communications with our residents and our community.
Find userful community resources and provide feedback to the Board.
Sample Meeting Agenda
To Be Determined
Call to Order
Determination of a Quorum
Confirmation of Meeting Notice
President's Report
Treasurer's Report
Manager's Report
Owner's Comments – on Agenda Items only
Approval of Prior Meeting Minutes
New Business
Old Business
Fining Committee
Owners Comments - General
Directors Comments
Next scheduled meeting date mentioned
Adjournment
Modifications to Briarwood Documents as agreed upon at Briarwood Board Meetings on Jan 10, 2017 & March 22, 2017.
You can read all about the proposed changes to the Briarwood documents and even send suggestions to the committee that is assisting the Board in determining the changes people want by going to our dedicated revisions page.
Follow Briarwood on Facebook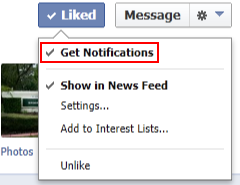 We will be posting updates on our Briarwood facebook page as new features and content is added to this website so you'll know to come back and see what improvements we've made.
Make sure you click Like from your facebook account and then also make sure you get notifications when Briarwood posts are made so you see them in your News Feed.
If you hover over the Like Button again, a new menu appears. From that menu, click on the top option "Get Notifications" to turn on that feature.