The Briarwood HOA website was developed to further enhance the HOA Board of Directors' and its Committees' communications with our residents and our community.
Find userful community resources and provide feedback to the Board.
Agenda for November 14, 2017 Meeting
To Be Determined
Call to Order
Determination of a Quorum
Confirmation of Meeting Notice
President's Report
Treasurer's Report
Manager's Report
Discussion on the process for amending HOA Governing Documents.
Owner's Comments – on Agenda Items only
Approval of Prior Meeting Minutes
New Business

Wall
TruScapes
ARC Requests
New Fences at both Pools
Review/Approval of Proposed 2018 Budget

Old Business
Fining Committee
Owners Comments - General
Directors Comments
Next scheduled meeting - January 9, 2018
Adjournment
Modifications to Briarwood Documents as agreed upon at Briarwood Board Meetings on Jan 10, 2017 & March 22, 2017.
You can read all about the proposed changes to the Briarwood documents and even send suggestions to the committee that is assisting the Board in determining the changes people want by going to our dedicated revisions page.
Warn Your Children
The kids from Braden River High School have been verbally warned by the Shefiffs patrol not to walk in the street but to walk on the sidewalk. (I assume this is happening in the mornings) Florida State statue 316.130 Pedestrian traffic regulations. Where sidewalks are provided, no pedestrian shall, unless required by other circumstances, walk along and upon the portion of a roadway paved for vehicular traffic. The kids will be ticketed the next time they are in the street. The ticket is $64.50. If the kids are cited after that it could be with an Obstruction of Traffic violation. This could result in being sent to juvenile detention court.
The Preserve at Walden Lake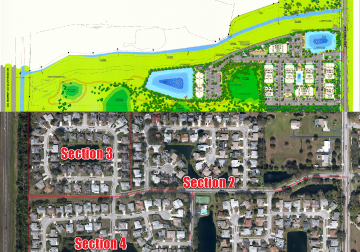 There has been much talk over the past months about the new development going in on the property directly to our north. While we share your concerns, development is simply a fact of life and no large tract of wooded land will remain as such for long here in Florida. Hopefully this image will help alleviate many of your fears about the development being right on top of your home. All buildings have a required setback of at least 100' from our north property line. Furthermore, 8 of the 9 buildings will be erected east of Briarwood Phase 2 (along the boundary with the Gertz' property). Only one building will be directly ajacent to Briarwood property.
If you click on the image, you will get a much larger version so you can zoom in and see how the development sits in relation to your home.
Please note that Jason Miller made this map from multiple sources and the scale between the two might be off slightly. Please allow for some fudge factor when reviewing this map.
Follow Briarwood on Facebook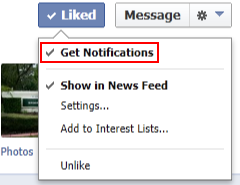 We will be posting updates on our Briarwood facebook page as new features and content is added to this website so you'll know to come back and see what improvements we've made.
Make sure you click Like from your facebook account and then also make sure you get notifications when Briarwood posts are made so you see them in your News Feed.
If you hover over the Like Button again, a new menu appears. From that menu, click on the top option "Get Notifications" to turn on that feature.