The Briarwood HOA website was developed to further enhance the HOA Board of Directors' and its Committees' communications with our residents and our community.
Find userful community resources and provide feedback to the Board.
Upcoming Events
Board Meeting
Our next board meeting will be Tuesday, August 10th, 2021 at 7:30pm
BRIARWOOD MASTER ASSOCIATION COMMUNITY GARAGE SALE
It's that time of year again. The Briarwood Community Yard Sale takes place on November 7th from 8am until noon. Get your stuff out and let it be someone else's treasure!
BRIARWOOD MASTER ASSOCIATION POOL SOFT OPENING
POOL IS OPEN! 9am to 7pm
PLEASE REMEMBER TO SOCIAL DISTANCE AT LEAST 6 FEET AWAY & NO GROUPS OF 10 OR MORE ARE ALLOWED! NO FOOD OR DRINK!
IF THESE GUIDELINES ARE NOT FOLLOWED THE POOL MAY BE CLOSED, ACT ACCORDINGLY!
STAY SAFE! THANKS, MANAGEMENT!
SAMPLE 2020 Meeting Agenda
Call to Order
Determination of a Quorum
Confirmation of Meeting Notice
Approval of Prior Meeting Minutes
New Business

ARC Request(s)
West Boundary Fence Trimming above 15' hanging over fence-dead pines
Menchinger & Tyack Audit
Budget Draft for 2020
Surplus funds to discuss

Owners Comments - General
Directors Comments
Adjournment
Next Meeting Date is November 12, 2019 at Tabernacle of Higher Learning
BRIARWOOD MASTER ASSOCIATION POOL RULES
Pool Hours:

Only during daylight hours!

No swimming or entry between Dusk and Dawn.
Shower before entering the pool

No Diving

No Alcoholic beverages

in pool area or pavilion.

No Glass

of any kind in pool area or pavilion.

No Animals

in pool area or pavilion (No exceptions)!
Children

under the age of 14 years

must be accompanied by an Adult

("RESIDENT, 18 Years or Older").

All guests must be accompanied by an Adult

("RESIDENT, 18 Years or Older")

No "Group" parties.
Food and Drink is allowed in Pavilion area only (No Glass items).
PLEASE BE A GOOD NEIGHBOR AND CLEAN UP AFTER YOURSELF!
Babies must be diapered in WATERPROOF swim diapers.
Keep gate closed & latched at all times.
Please do not use the pool if you are ill.
SMALL POOL: Bathing Load 10 persons
LARGE POOL: Bathing Load 20 persons
No Flotation Devices (except arm devices for non-swimmers).
No Battery-operated or remote controlled toys in pool.
Parking at the pools is for pool use only!
Follow Briarwood on Facebook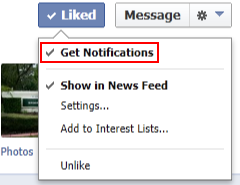 We will be posting updates on our Briarwood facebook page as new features and content is added to this website so you'll know to come back and see what improvements we've made.
Make sure you click Like from your facebook account and then also make sure you get notifications when Briarwood posts are made so you see them in your News Feed.
If you hover over the Like Button again, a new menu appears. From that menu, click on the top option "Get Notifications" to turn on that feature.